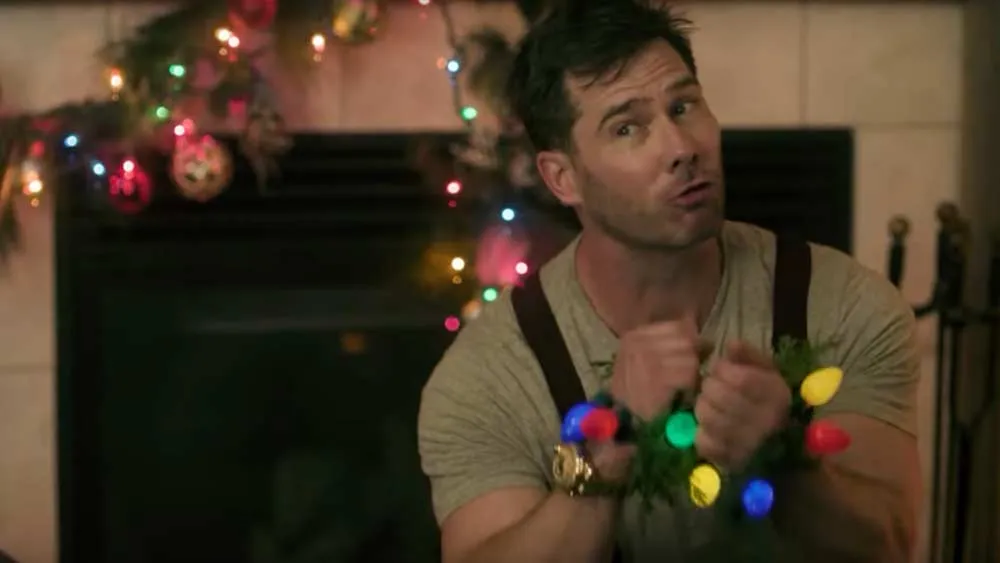 Out 'Bros' Star Luke Macfarlane Back to Playing Straight for Hallmark Christmas Movie
People Magazine reports that ripped "Bros" actor Luke Macfarlane is heading back to the Hallmark Channel for a Christmas movie titled "Catch Me if You Clause," in which he plays a straight role: That of Chris Claus, the son of – you guessed it – Old St. Nick.
But even as Chris Claus is depicted as falling in love with Avery (Italia Ricci), the woman who captures him thinking he's a housebreaker, the movie has a cheeky element of kink embedded in it when young Chris gets tied up with holiday lights.
That's when Macfarlane turns on the charm, with Chris trying to convince Avery to let him loose so he can complete his Yuletide rounds, just as his father has always done.
"You have tied up Santa Claus, thereby jeopardizing Christmas," Chris protests. "What if you couldn't complete the most important task of your life?"
"However, Avery, an aspiring news anchor, is not convinced by his heart-tugging story," People relays. "She suspects Chris might actually be the elusive Santa Crook who has been making headlines – and she sees the potential for a career-making story by being the one to finally nab him."
Each has a mission to accomplish, and each needs the other in order to succeed as things take a fresh twist and the duo find themselves on the run – but not about to give up hope for a Christmas miracle. Falling in love seems an inevitable part of the formula.
The trailer's voiceover summarizes everything with the logline, "Luke Macfarlane has one night to convince Italia Ricci if he's naughty or nice."
Hallmark Channel is set to unleash 31 new films this holiday season, People noted. "Additionally, nine new holiday films will debut on Hallmark Movies & Mysteries, while two more movies will premiere on their subscription streaming service, Hallmark Movies Now," Peple noted.
Macfarlane has made something of a one-man industry from Hallmark's holiday movies, starring in a number of the channel's seasonal offerings. Though he has been openly gay since his time on "Brothers and Sister," the 41-year-old has portrayed straight characters in many of those films.
However, he did help break new ground on Netflix by playing gay in the 2021 holiday rom-com "Single All the Way." He also featured in a gay leading role in the recent Hallmark Channel movie "Notes of Autumn," a house-swap movie that sees two best friends – musician Ellie (Ashley Williams) and novelist Leo (Macfarlane) – trading residences for a while in order to find fresh inspiration for their respective artistic pursuits – and, in Leo's case, inspiration turns out to be a man named Matt (Peter Porte).
"Catch Me if You Clause" will make a perfect Thanksgiving dessert, premiering at 8 pm ET on Thursday evening, Nov. 23.Watch the trailer below.
---
Kilian Melloy serves as EDGE Media Network's Associate Arts Editor and Staff Contributor. His professional memberships include the National Lesbian & Gay Journalists Association, the Boston Online Film Critics Association, The Gay and Lesbian Entertainment Critics Association, and the Boston Theater Critics Association's Elliot Norton Awards Committee.