Gay Key West: The Latest
Director Bong Joon-ho smiled and waved at a waiting crowd on Sunday as he arrived home in South Korea, his first trip back since he won four Oscars for his movie "Parasite," including the award for Best Picture.
For I.S. Leevy Johnson, the Democrats' search for a challenger to take on President Donald Trump is personal.
Democratic presidential candidate Pete Buttigieg says he's proud of his marriage and his husband.
The seminarians walk along a hallway lined with photos of classes of priests who came before them. Some are pious alumni who have become their teachers and mentors; others climbed the Catholic hierarchy to be revered as bishops and cardinals.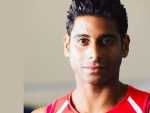 Protestors have picketed outside the Broadway revival of "West Side Story" on three occasions, taking issue with the casting of actor Amar Ramasar (who plays Bernardo, the leader of the Sharks) and demanding his dismissal.
As Israel Folau made a try-scoring debut for his new club Catalan Dragons on Saturday, a man watching from the stands was told to remove a rainbow flag unfurled in support of the LGBT movement.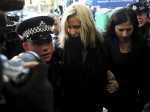 The boyfriend of Caroline Flack, the British TV host for the controversial reality show "Love Island," said Sunday that his "heart is broken" at her death as criticism swelled at her treatment by some British media.
The family who owns a house in southwest England where an artwork from Banksy appeared in time for Valentine's Day has covered the mural after it was defaced.
If there is a state where Democratic presidential candidate Mike Bloomberg could expect a return on investment, it is Virginia.
Joe Biden, standing on a Las Vegas stage roughly 1,000 feet from the scene of the deadliest mass shooting in modern U.S. history, took on White House rival Bernie Sanders for his past vote to exempt gun manufacturers from liability for shootings.
Lynn Cohen, an actress best known for playing the plainspoken housekeeper and nanny Magda in "Sex and the City," has died. She was 86.

Three people were shot and wounded on Valentine's Day at a restaurant just outside Atlanta that's owned by singer and "Real Housewives of Atlanta" star Kandi Burruss.
Two sites in Kentucky and two in Tennessee have been added to the U.S. Civil Rights Trail, officials said Thursday.
Facebook's green light for political campaigns to pay prominent social media users to spread their messages is highlighting the difficulties around setting rules for the fast-changing world of online political campaigning.
When insurers revoke their decision to pay after the service is completed, patients are legally on the hook for the bill.
Sixty-four cars and SUVs sold in the U.S. earned Top Safety Pick awards from the Insurance Institute for Highway Safety.
Ryan's Secret creative director and designer Myriam Chalek wants to bring awareness to young men who experience depression and commit suicide because of body shaming and bullying.
With more than 60 million people under lockdown in more than a dozen Chinese cities, the new outbreak is prompting calls to permanently ban the sale of wildlife.
YouTube travel influencer Bradley Birkholz heads to Barcelona. Check out what he discovered!
The 21st Annual Glam Awards celebrates the best of New York City Nightlife, it is also an incredible display of creativity, talent and camaraderie.