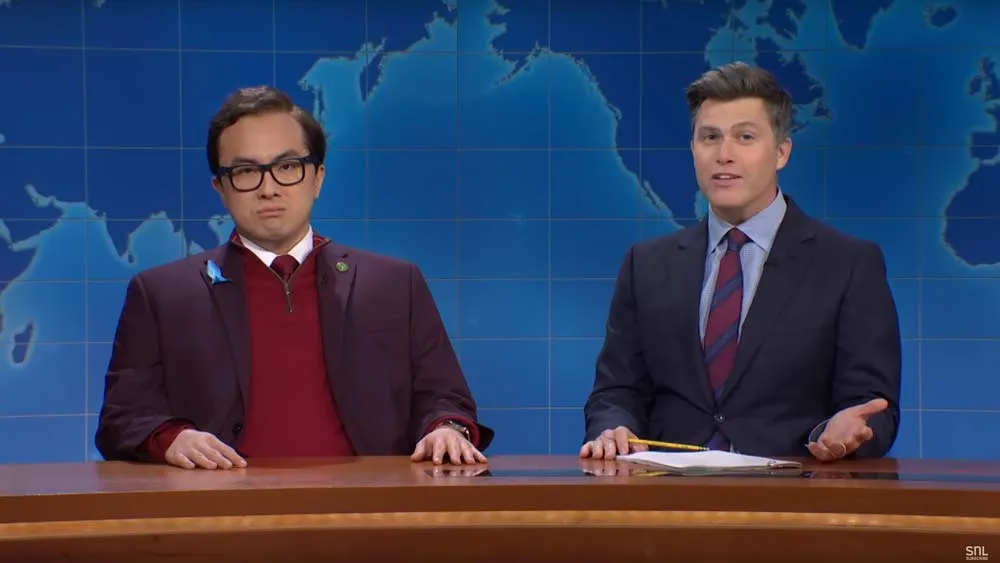 Watch: Bowen Yang Kills It as George Santos on 'SNL' Weekend Update
One's a gifted comedian; the other is an equally laughable (though for the wrong reasons) politician. Openly gay "Saturday Night Live" cast member Bowen Yang hilariously skewered Republican Rep. George Santos on the latest "Weekend Update" segment, comparing Congress to OnlyFans, claiming to have invented being gay, and offering a version of Stonewall that's even more offensive than the 2015 Roland Emmerich movie starring Jeremy Irvine.
The segment started off like a science report, with Weekend Update anchor Colin Jost talking about NASA's discovery of "a tiny moon orbiting [an] asteroid" located "three hundred million miles" from Earth.
"Here to comment is the scientist who made the discovery," Jost continued, before exclaiming: "Oh, no! It's George Santos!"
Santos is known for having fabricated much of his resume. He was also, Jost noted, the subject of a "scathing report" from the House Ethics Committee, which, as CNN reported, cited "evidence he broke federal laws, stole from his campaign and delivered a 'constant series of lies' to voters and donors on his way to winning a US House seat."
CNN noted that the report accused Santos of "[seeking] to fraudulently exploit every aspect of his House candidacy for his own personal financial profit."
Jost ticked through a number of the allegations in the report, including that Santos "spent campaign funds on OnlyFans," dropped cash from his campaign on luxury fashion brand Hermès, and gambled on roulette with money from his congressional bid.
"Look, you're in Congress, but you're watching OnlyFans instead?" Jost asked.
"Oh, please! Isn't Congress kind of like OnlyFans anyway?" Bowen shot back. "People paying you to do nasty things on a sad, bad livestream?"
Jost noted that another allegation was that Santos spent campaign cash on shopping at luxury stores, including Ferragamo. "What did you buy at Ferragamo?" Jost asked.
"This sweater," Yang said, stroking the red garment he wore beneath a violet blazer.
"You went to Ferragamo," Jost said, "and that's what you picked?"
"Okay, you're a bitch," Yang said, before batting away a subsequent question about an allegation that he "spent three thousand dollars on Botox."
"I didn't get Bo-tox," Yang snapped, "I got bo-tox, which is short for 'big ol' thing of Botox.'"
Yang went on to pretend to take a conference call from Christina Aguilera, P!nk, Li'l Kim, and Mya about starring in "Lady Marmalade 2." Not long after, Yang pretended to take another call, this one from Martha Stewart, on a rolled-up towel he insisted was "the new iPhone Baby."
"Everything out of your mouth is a lie," Jost declared. "Your spending, your resume, you lied about being Jewish – are you even gay?"
"Of course I'm gay, Colin!" Yang fumed. "I invented being gay. I was the one at Stonewall who said, 'Here's an idea: You guys should kiss.'"
"That's not what happened," Jost stated, "and just stop lying!"
Watch the segment below.
---
Kilian Melloy serves as EDGE Media Network's Associate Arts Editor and Staff Contributor. His professional memberships include the National Lesbian & Gay Journalists Association, the Boston Online Film Critics Association, The Gay and Lesbian Entertainment Critics Association, and the Boston Theater Critics Association's Elliot Norton Awards Committee.