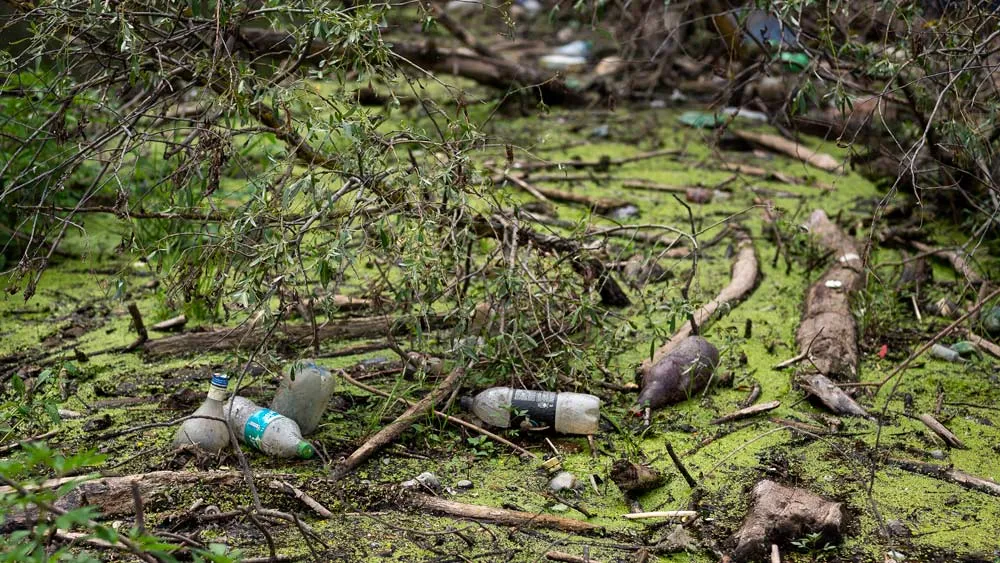 At Talks on Cutting Plastics Pollution, Plastic Credits Are on the Table. What are They?
Carlos Mureithi and Jennifer McDermott
READ TIME: 5 MIN.
Two groups that want reduced plastics production published a report Friday highly critical of plastic credits, calling them a flawed tool that won't help with worldwide pollution from the material.
The groups – Break Free From Plastic and the Global Alliance for Incinerator Alternatives – said the credits often amount to corporate greenwashing. They issued their report in Nairobi on the sidelines of United Nations-led negotiations for a treaty aimed at cutting plastics pollution.
The report looks at two prominent proponents of plastic credits, Verra and the Plastic Credit Exchange marketplace. Break Free From Plastic analyzed publicly available databases of Verra, and shared analysis of the Plastic Credit Exchange marketplace by non-profit investigative journalism organization SourceMaterial.
Their report cited "serious flaws" in financing, transparency and basic auditing, and said credits being issued for plastic incinerated in cement kilns were substituting one form of pollution for another.
Verra, the world's leading certifier of carbon offsets, said at an event alongside the talks that plastic credits can be a tool for mobilizing the money needed to tackle plastic pollution.
"The finance associated with the treaty is near as important as its ambition," Kristen Linscott, senior program officer for plastics policy and markets at Verra, said in a presentation. "Without the proper funding mechanisms and tools, even the most ambitious treaty won't deliver its promised impact."
PCX said in a statement Friday in response to the report that verified plastic credits can help fund collection, transportation and processing of the 8 billion tons of legacy plastic pollution, and it believes reduction in plastic production is absolutely crucial. Its CEO, Sebastian DiGrande, said the report contained "widespread and significant inaccuracies and misrepresentations," including claims it already refuted.
WHAT ARE PLASTIC CREDITS?
Plastic credits, sometimes called offsets, work a bit like the carbon credits that many fossil fuel companies have purchased to try to offset their greenhouse gas emissions. The concept involves companies or people paying for a specified weight of plastic to be collected somewhere in the world, generating a credit that justifies their production or use of the equivalent amount of plastic.
Nina Kelsey, associate professor of public policy and international affairs at George Washington University, said it's tough for some companies to accept producing less plastic from their factories.
"So instead, I'm going to do something that is a bit easier, which is I'm going to pay to have that same amount of plastic removed from the world," she said.
The exchange is facilitated by accreditors like Verra, marketplaces like the Plastic Credit Exchange (PCX), or private companies that trade in credits or organize credit-generating activities. When companies buy enough plastic credits to offset their plastic footprint over a set period of time, some may claim plastic neutrality or "net-zero plastic."
Kelsey, who was not involved in Friday's report, said it's a good thing to encourage people to take plastic waste out of the environment, but it's not as good as putting less plastic into the environment.
WHAT DOES THE REPORT SAY?
The report said that Verra has just one project actually issuing credits, and most of the projects on PCX's database generate credits from sending waste to be burned rather than recycled.
"Often companies are buying credits under the assumption that they're going to be helping the environment and removing plastic, when actually in a lot of cases they are just transforming that pollution from plastic pollution into toxic air pollution," said Emma Priestland, global corporate campaigns coordinator at Break Free From Plastic.
The Philippines-based PCX said co-processing in cement kilns with the proper safeguards and monitoring is an environmentally-preferable alternative to landfills and open burning for non-recyclable plastic waste, and is allowed by governments, particularly in places where higher-level processing isn't available.
The report says some projects are claiming credits for infrastructure built years before, and there are "serious doubts" about the additionality of Verra's plastic credit program – a key offsetting concept meaning that credits pay for activities, in this case waste collection and recycling, that wouldn't happen without the financial programs.
Verra, a nonprofit, said Friday that plastic credits in its program have been issued to more than one project, and its plastic program enables new or scaled-up projects to issue credits for plastic waste collection or recycling activities after completing a robust development and assessment process. Plastic credits are not a substitute for a company's responsibility to reduce plastic use and should not be used to continue business-as-usual practices, Verra said in a statement.
"The plastic crisis is too large and imminent to be solved by a single solution or mechanism," the statement says.
The Break Free From Plastic movement and GAIA say that plastic offsetting fails to deliver on its basic promise of helping companies reduce their impact on the environment, instead substituting one type of fossil fuel for another by burning plastics instead of coal.
"Businesses that wish to act more sustainably are better served by reducing plastic use across their operations, and not attempting to offset it," the report concludes.
WHAT DO PLASTIC CREDITS PROPONENTS SAY?
Verra says there are several benefits of plastic credits, notably how they can help keep plastics out of the environment by enabling the creation of sound plastic waste collection and recycling infrastructure and capacities. The company also says money raised from waste collection and recycling credits can generate income for "the informal waste sector" – people who pick through waste – and give them safer working conditions.
At Verra's event in Nairobi, Linscott said plastic credits can help low- and middle- income countries get the financing to establish and scale up waste management infrastructure and its program helps increase global recycling collection and recycling capacity.
"There are more benefits than just the plastic being collected or recycled," she said.
Verra also denied claims that plastic credits are greenwashing instruments or a false solution.
"A lot of the knee-jerk reaction or greenwashing assumption comes from an assumption that plastic credits are the perfect solution," Linscott said. "Plastic credits are just a tool to be there on the transition to this world we hope to live in where there is no plastic pollution."
The Plastic Credit Exchange says its mission is to accelerate the transition to a circular economy and build a future where no plastic waste ends up in nature. It said in a statement that it is one of many solutions for plastic waste.
"PCX does not see 'burning plastic' as the 'go-to solution' to plastic waste," it said. "We advocate for responsible waste management practices that comply with international standards and prioritize higher-order solutions wherever feasible."
WHAT DO OPPONENTS SAY?
Environmentalists argue that issuing credits for plastic burned in incinerators and cement kilns encourages that burning – thus putting more toxic chemicals into the environment.
"Plastic credits create a new problem because the pollutants become more spread out and they're invisible," said Yuyun Ismawati, senior advisor of Nexus3 Foundation and plastic advisor for the International Pollutants Elimination Network Plastic. Ismawati is advocating for communities in Indonesia who are affected by pollution from a plastic credits project there.
Environmental policymakers see plastic credits as a tactic for companies that rely on single-use plastic to avoid changing their business models.
"They're going to push back against a ban because you're taking away their income," said Neil Tangri, science and policy director at GAIA, who contributed to the report. "There is a competition here and they don't recognize the dynamic that they're creating.
ARE PLASTIC CREDITS IN THE POLLUTION TREATY?
Not in the current draft text, but it's been discussed.
Negotiators are charged with developing the first international, legally binding treaty on plastic pollution on land and at sea. The gathering in Nairobi is the third in a compressed five-meeting schedule intended to complete negotiations by the end of next year. Most of the world's nations, petrochemical companies, environmentalists and others affected by the pollution are attending the talks.
___
McDermott reported from Providence, Rhode Island.
___
Associated Press climate and environmental coverage receives support from several private foundations. See more about AP's climate initiative here. The AP is solely responsible for all content.
---