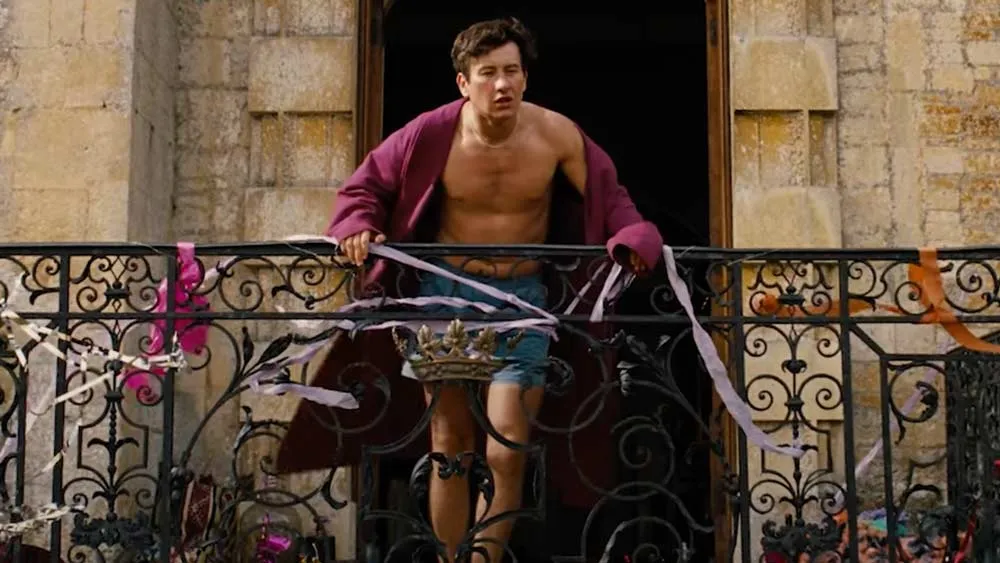 Review: Slippery 'Saltburn' Suggests, but Doesn't Deliver
There are so many things happening in writer/director Emerald Fennell's "Saltburn" that it shouldn't be a surprise to anyone that you'll likely figure out how it ends even before the final act. With its cast of suspicious characters, and set on a sprawling British estate named "Saltburn," the film has a "choose your own adventure" quality that will ultimately have you asking, "What if I'd taken this path instead?" For instance, you could have ordered in and watched a true crime documentary, but, no, you didn't. You opted to dive into this mixture of gothic mystery and adolescent angst.
"Saltburn" muddles all the popular tropes of the moment, including privilege, sexual desire, power, and (especially) popularity – to be "seen" and accepted. We're introduced to the story through the experience of Oliver, played by Barry Keoghan ("The Banshees of Inisherin"). It's the first day of the new school term at Oxford, and students excitedly mill about as they reconnect from the summer break, and new students overwhelmingly take in the hallowed halls. Oliver is brilliant, but awkward; handsome in a quirky way, but socially obtuse.
Oliver is keen and observant, and quickly lands eyes on one of the campus' most desirable offerings, Felix (Jacob Elordi, from HBO's "Euphoria"). Felix is the total opposite of Oliver: privileged, confident, and alluring. Oliver keeps his distance from Felix, never far from his orbit until, as fate would have it, their paths collide. After Felix suffers a flat tire on his bike, Oliver offers to lend him his so that Felix isn't late for class. Felix is grateful, and generously begins to bring Oliver into his circle. The pair begin to spend a great deal of time together. Suddenly as the term is coming to an end and final exams are happening, Oliver learns that his father has died suddenly.
Aside from his proper position in the social hierarchy, Felix is kindhearted and genuinely feels affection for Oliver. Without hesitation, he invites Oliver to spend the summer break with him at his family's country estate. Although the audience immediately picks up on his attraction to the darkly handsome upperclassman, Oliver is content to be the "best mate," and keep their relationship completely plutonic – but perhaps now, accepting Felix's invitation to visit Saltburn, that could change.
There is one caveat: Felix warns Oliver that, though generally harmless, his family is a bit eccentric, even by British standards. And that's where the narrative starts to take its diabolical turns. Oliver arrives at Saltburn and is greeted by Duncan (Paul Rhys), the macabre-looking butler. It's also at Saltburn that we're introduced to the rest of Felix's family, including his overly dramatic mother, Elisabeth (Rosamund Pike), his weirdly aristocratic father, Sir James (Richard E. Grant), his sister, Venetia (Alison Oliver), and the intrusively ambiguous and trouble-making cousin, Farleigh.
Many of the inhabitants of Saltburn are cutout characters from "Clue" or a similarly styled whodunit. Everyone has an agenda, except for perhaps Pamela (Carey Mulligan), a troubled family friend who is visiting Saltburn. Felix may be the most normal one of them all, and it's no wonder that he'd want Oliver to tag along. Felix helps to initiate Oliver in the customs at Saltburn, but it isn't long before it becomes apparent that there is far more to Oliver than there appears to be. Farleigh and Venetia are quick to pounce on Oliver, whom they assume is "vulnerable." Venetia comments suggesting that Oliver is just Felix's latest plaything – but Oliver immediately begins to tighten the screws himself.
Not that the feature is at all predictable. Its characters are engagingly interesting (until they are not), and the cast is beautifully set inside of this strange setting. Everyone has a moment meant to exhibit complexity, but the pieces orchestrated to shock come off as illustratively provocative for the sake of their value. A darkly unfortunate seduction goes over the top; at another juncture, Oliver can't help but peek through a crack in the door to the bathroom he shares with Felix, especially as the muscled stallion relieves himself of some tension in the large tub. When Felix is done, Oliver doesn't let a drop go to waste.
"Saltburn" is written with great precision, directed and photographed to parallel every great period piece, but at its heart it's very dark, with a sense of betrayal that is often a distraction. It's hard to like any of these characters or feel anything but a disconnected contempt for them. "Saltburn" attempts to lean into aspects of "The Talented Mr. Ripley" with a tinge of "Twilight" and a nod to "The World According to Garp" (no, really) – it's a mix that doesn't lead to much combustion, and lacks any pay-off.
"Saltburn" is in theaters everywhere November 22, 2023.
---
Native New Yorker JC Alvarez is a pop-culture enthusiast and the nightlife chronicler of the club scene and its celebrity denizens from coast-to-coast. He is the on-air host of the nationally syndicated radio show "Out Loud & Live!" and is also on the panel of the local-access talk show "Talking About".