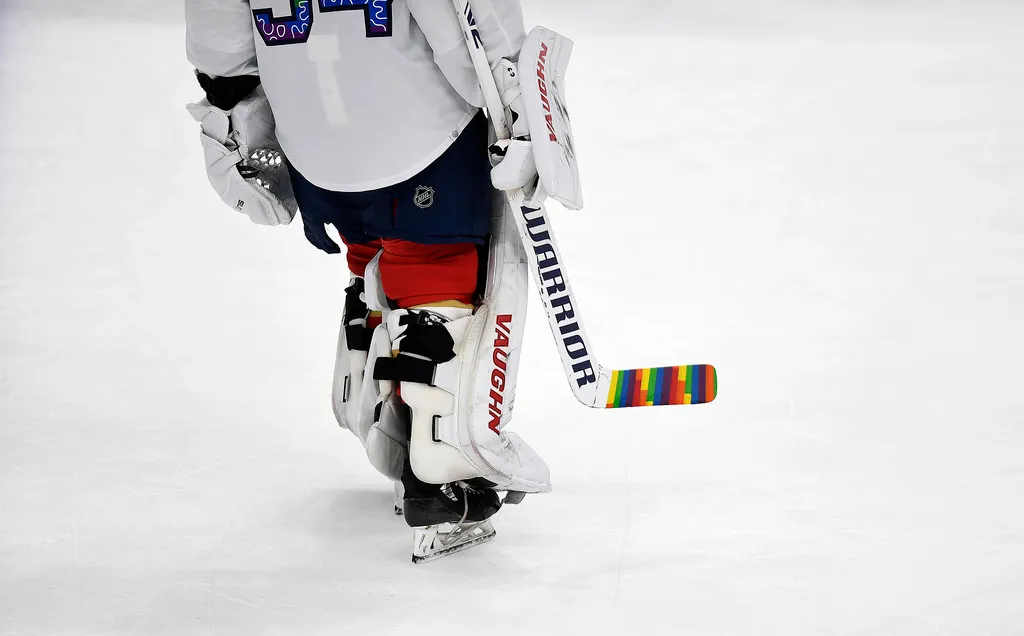 NHL Issues Updated Theme Night Guidance, which Includes Ban on Players Using Pride Tape on the Ice
Stephen Whyno
READ TIME: 3 MIN.
The NHL sent a memo to teams last week clarifying what players can and cannot do as part of theme celebrations this season, including a ban on the use of rainbow-colored stick tape for the Pride nights that have become a hot-button issue in hockey.
The updated guidance reaffirms on-ice player uniforms and gear for games, warmups and official team practices cannot be altered to reflect theme nights, including Pride, Hockey Fights Cancer or military appreciation celebrations. Players can voluntarily participate in themed celebrations off the ice.
Deputy NHL Commissioner Bill Daly confirmed to The Associated Press on Tuesday, a few hours before the season opened with a trio of games, that the league sent the updated memo, which was first reported by ESPN.
Former league and team executive Brian Burke, a longtime advocate for the LGBTQ+ community, on Wednesday sharply criticized the decision that he says removes meaningful support to protect a select few who don't want to answer questions about their choices.
"This is not inclusion or progress," Burke, now president of the PWHL Players Association, said in a statement posted to social media. "Fans look to teams and the league to show they are welcome, and this directive closes a door that's been open for the last decade. Make no mistake, this is a surprising and serious setback."
The You Can Play Project, an organization that advocates for LGBTQ+ participation in sports and has partnered with the NHL for the past decade, similarly ripped the league by saying, "If Hockey is for Everyone, this is not the way forward."
"It is now clear that the NHL is stepping back from its longstanding commitment to inclusion, and continuing to unravel all of its one-time industry-leading work on 2SLGBTQ+ belonging," the YCP Project said in a statement. "We are now at a point where all the progress made, and relationships established with our community, is in jeopardy. Making decisions to eradicate our visibility in hockey – by eliminating symbols like jerseys and now Pride Tape – immediately stunts the impact of bringing in more diverse fans and players into the sport."
The NHL decided in June not to allow teams to wear any theme jerseys for warmups after a handful of players opted out of those situations during Pride night last season. The league has said players opting out of Pride nights served as a distraction to the work its teams were doing in the community.
"You know what our goals, our values and our intentions are across the league, whether it's at the league level or at the club level," Commissioner Gary Bettman said in February during All-Star Weekend festivities. "But we also have to respect some individual choice, and some people are more comfortable embracing themselves in causes than others. And part of being diverse and welcoming is understanding those differences."
Philadelphia's Ivan Provorov was the first player to decide not to take part in warmups when the Flyers wore rainbow-colored jerseys before their Pride night game in January, citing his Russian Orthodox religion. Six other players followed for a variety of reasons – fellow Russians Ilya Lyubushkin, Denis Gurianov and Andrei Kuzmenko and Canadians James Reimer and Eric and Marc Staal – and individual teams including the New York Rangers, Minnesota Wild and Chicago Blackhawks decided not to have any players wear Pride jerseys in warmup.
"The Pride Tape team is extremely disappointed by the NHL's decision," the makers of Pride Tape said in a statement. "Despite this setback, we are encouraged for what lies ahead based on our recent conversations from every corner of the sport."
Maple Leafs defenseman Morgan Rielly told reporters in Toronto he wished players had the right to do more and be more involved.
"I'm going to continue to be involved in the community and offer support to those communities and those groups that want that (and) need that," Rielly said.
---