Gay Key West: The Latest
Whether you're headed to NYC for WorldPride or another iconic locale to celebrate and commemorate the 50th anniversary of the Stonewall Riots, you need a plan. We turned to our travel expert friends at Orbitz for insider tips on what not to miss.
A major faith-based foster care and adoption contractor for the state of Michigan is reversing its policy and will place children with same-sex couples to comply with a legal settlement.
A federal appeals court on Monday rejected a bid by former Army intelligence analyst Chelsea Manning to be released from jail for refusing to testify to a grand jury investigating Wikileaks.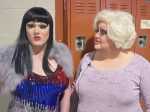 The suicide of a bullied 15-year-old in Huntsville, Alabama, has sparked efforts to reach out to LGBTQ youth and also provide education around the issue of bullying.
In a strange new video uploaded to her YouTube channel Sunday, disgraced comedian Roseanne Barr claimed she is queer.
President Donald Trump and his business organization have sued the Democratic chairman of the House oversight committee to block a subpoena that seeks years of the president's financial records.
The Supreme Court will decide whether the main federal civil rights law that prohibits employment discrimination applies to LGBT people.
The subscription shaving service Harry's released a new ad last week featuring a number of men shaving, including a transgender man.
Organizers of the LGBTQ+ events during Gay Disney — KindRED Pride Foundation, Girls in Wonderland, One Magical Weekend, and Tidal Wave Party - will provide buy one get one free (BOGO) event tickets to members of the LGBTQ military and veteran community.
Brain death is difficult to conceptualize, as it is a less visible form of death. And isn't it so much easier to believe what we can see?
Pete Buttigieg became mayor of South Bend, Indiana, at age 29, a feat that made him the youngest mayor in America of a city of that size. But if a high school yearbook is to be believed, Mayor Pete is also a favorite pick to become president.
"Miracle in Rwanda" helps us better understand how one woman survived, and also how a painful struggle with her faith led her to find some inner healing through the forgiveness of her oppressors.
Vast changes in America and technology have dramatically altered the way the census is conducted. Accuracy is at the heart of the Supreme Court case over the Trump administration's effort to add a citizenship question.
Now would-be migrants create chat groups and organize using social media to leave in caravans.
Don't let any of these myths prevent you from making the most of available travel rewards.
Tesla plans to cut its board of directors from 11 to seven in a move the electric-car maker says will allow the board to act more nimbly and efficiently.
Do you know where your snacks are? Four in ten Americans admit to being food thieves, according to new research.
Given all the attention around measles, here's what people who believe they have been vaccinated should know.
A Kansas couple is turning the concept of covered wagons that pioneers once used to journey west into a luxury experience for campers who want to enjoy nature without sacrificing the comforts of electricity and spacious beds.
DJ Brent Covington and DJ Taffy hosted a busy night at FUZZ @ The Alley Bar last Friday night. Check out who was there.