1 thru 15 of 2174 Stories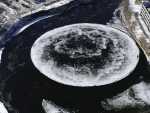 Think of it as a crop circle, but in a river: A curious formation that's getting attention in Greater Portland is actually a spinning ice disk that is roughly 100 yards (91 meters) wide.
Scientists from NASA's New Horizons mission on Tuesday released the first stitched together animation of Ultima Thule (TOO-lee), the most distant object ever explored by humans.
Antarctica is melting more than six times faster than it did in the 1980s, a new study shows.
An Australian state government on Tuesday announced plans to mechanically pump oxygen into lakes and rivers after hundreds of thousands of fish have died in heatwave conditions.
China exchanged data with NASA on its recent mission to land a Chinese spacecraft on the far side of the moon, the Chinese space agency said Monday.
James Watson, the Nobel Prize-winning DNA scientist who lost his job in 2007 for expressing racist views, was stripped of several honorary titles Friday by the New York lab he once headed.
What should a state health department do when its newly elected congressman gets a rush of social media attention for challenging the science behind vaccines?
West Hawaii Today reported Friday that volunteers from the National Marine Sanctuary Foundation will coordinate this season's Ocean Count, a community citizen science project that occurs during the peak of whale season.
Researchers say a pack of wild canines found frolicking near the beaches of the Texas Gulf Coast carry a substantial amount of red wolf genes, a surprising discovery because the animal was declared extinct in the wild nearly 40 years ago.
Oregon wildlife officials have started killing California sea lions that threaten a fragile and unique type of trout in the Willamette River.
China on Friday broadcast pictures taken by its rover and lander on the moon's far side, in what its space program hailed as another triumph for the groundbreaking mission to the less-understood sector of the lunar surface.
Police served a search warrant Tuesday to get DNA from all male employees at a long-term care facility in Phoenix where a patient who had been in a vegetative state for years gave birth, triggering reviews by state agencies.
The U.S. cancer death rate has hit a milestone: It's been falling for at least 25 years, according to a new report.
An asteroid-circling spacecraft has captured a cool snapshot of home. NASA's Osiris-Rex spacecraft took the picture days before going into orbit around asteroid Bennu on New Year's Eve.
A popular DJ pleaded guilty Tuesday to raping and strangling a schoolteacher in 1992 after being identified as a suspect as a result of DNA a relative had submitted to a genealogy database.
1 thru 15 of 2174 Stories