1 thru 10 of 2810 Stories
Police say an American Airlines flight from Pittsburgh to Dallas/Fort Worth was diverted to Oklahoma City because of a drunken, unruly passenger.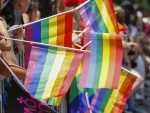 New York's state lawmakers have passed legislation to ban the so-called 'gay panic' defense in murder cases with LGBTQ victims.
A suburban St. Louis man accused of telling organizers of the city's Pride parade that he would shoot and kill as many gays as possible at the LGBTQ celebration before turning the gun on himself has been charged with making a terrorist threat.
Three teenagers arrested in connection with a vicious assault and robbery against a gay couple now face hate crime charges, media sources report.
A Chicago transwoman says that one of the Windy City's finest detained her last March 5 as she was walking along the street on her way home, drove her to an alley in a marked police car, and forced her to perform oral sex on him under threat of arrest.
Two high school football players in Kearns, Utah, have been dropped "indefinitely" from their football team after a Snapchat post in which a Pride flag was burned while threatening anti-LGBTQ sentiments were voiced.
It was a mini crime wave, reportedly carried out over a span of approximately 75 minutes by teenagers as young as 15. Among their victims: A gay couple who say they were targeted for a savage beating because of their sexuality.
Alabama authorities say a 24-year-old Birmingham man has pleaded guilty to murder and attempted murder of victims he targeted because they were transgender.
Shoppers and employees have described terror and chaos as shots rang out inside a busy California warehouse store as a gunman in an argument near the freezer section opened fire — killing one man, wounding two and sparking a stampede.
Winston McKay, 40, was shot and killed by a stray bullet while walking his dog after celebrating his and his husband's anniversary early Monday morning.
1 thru 10 of 2810 Stories