People with a DNA mutation that reduces their chance of HIV infection may die sooner, according to a study that suggests tinkering with a gene to try to fix one problem may cause others.
El Salvadorian transgender woman Johana Medina Leon, 25, died in a medical facility in Texas Saturday, four days after being released from Immigration and Customs Enforcement custody.
A local physician who has AIDS has since been arrested and is being investigated for possibly intentionally infecting patients.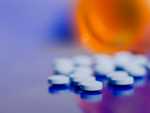 The Health and Human Services Department announced Thursday that California-Based Gilead Sciences Inc. has agreed to donate medications that reduce the risk of HIV transmission for up to 200,000 people a year.
The United Nations' AIDS agency said Wednesday its executive director is leaving the post immediately, following allegations he mishandled sexual assault claims at the agency that is tasked with helping end the HIV epidemic.
A syringe exchange program facilitator and harm reduction specialist shares her story about advocating in Washington, DC.
The U.S. government has expressed concern about allegations of misused funds at the U.N.'s AIDS agency after a report by The Associated Press this week revealed ongoing financial and sexual misconduct problems at the agency.
Arizona's Republican governor quickly signed a bill Thursday repealing a 1991 state law that had barred HIV and AIDS instruction that "promotes a homosexual lifestyle."
Arizona lawmakers on Wednesday took a major step toward repealing a 1991 law that bars HIV and AIDS instruction that "promotes a homosexual lifestyle," a move prompted by the filing of a lawsuit by LGBT groups.
A Honduran transgender migrant, whose 2018 death while in the custody of U.S. Immigration and Customs Enforcement sparked protests and calls for an investigation, died of a rare disorder that developed quickly due to AIDS, according to an autopsy.