Gay Key West: The Latest
Understanding how the immune system works can help bring clarity to the reasons some people could benefit from the authorized shots.
Deaths nationally have been ticking up over the past few weeks, some rural hospitals are showing signs of strain, and cold weather is setting in.
Facebook and Instagram have removed a live broadcast that Brazil's President Jair Bolsonaro delivered that claims UK vaccine recipients are developing AIDS.
'Pretty Smart's' Michael Hsu-Rosen is making his own way in Hollywood, but sees no role models for his Asian/Caucasian heritage.
On the red carpet at the premiere of "Eternals," Haaz Sleiman spoke about the film's groundbreaking gay representation.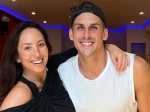 On this season of "Dancing With the Stars," Cody Rigsby regrets not having chosen a same-sex partner in the dancing competition, like competitor out YouTuber JoJo Siwa.
TikTok sensation Corey O'Brien joins EDGE for a live interview to discuss how community — both real and virtual helps support his sobriety.
2020 was the deadliest year for murderous anti-trans violence, claiming 44 victims. 2021 is on the verge of equalling — or surpassing — that grim total.
What same-sex actors would you like to see in gay love stories?
Ever wondered what "Ellen" would be like with a dose of testosterone? Jason Sudeikis offered a glimpse with his "Saturday Night Live" sketch in which he starred as "Mellen - the Male Ellen!"
Twitter suspended an Indiana congressman's official account after removing a post about a transgender Biden administration official over a violation of the social media company's rules.
Alan Cumming returned to Boston, this time with NPR's Ari Shapiro for a very queer and very fun cabaret evening.
A small but significant number of American workers are deciding whether to quit their jobs and careers in defiance of what they consider intrusive edicts that affect their freedoms.
What are Bitcoin bonuses and how do they work in the world of online casinos?
Here are some of the government funding options that are still available to help small businesses in the time of COVID — and how to get them.
These entry-level crossovers provide lots of utility in a relatively small package and offer many features found in larger SUVs. Cutting back on size doesn't mean cutting back on convenience.
U.S. health officials may have solved the mystery of how four people in different states came down with a serious tropical disease even though none had traveled internationally.

New variants can emerge as long as the virus that caused the pandemic keeps infecting people. But that doesn't mean new variants will keep emerging as regularly, or that they'll be more dangerous.

High school bands played, costumed marching groups danced, and float riders threw beads to the thousands of people who turned out for New Orleans' first big parade since COVID pandemic hit.
Just because you are in the middle of staying healthy and safe during the pandemic does not mean you have to forget about your sex life; you are your safest sex partner, and this toy can help you become your best partner, too.