Gay Key West: The Latest
Plans are back on to beam twin columns of light into the Manhattan sky to represent the World Trade Center during next month's anniversary of the 9/11 terror attacks.
President Donald Trump on Friday twice ignored a question about whether he supports QAnon, a convoluted, right-wing, pro-Trump conspiracy theory.
The standard political gatherings that were to unfold for the Democratic Party in Milwaukee, Wisconsin, and for the GOP in Charlotte, North Carolina, will be largely virtual, constrained by the coronavirus.
The leader of a cult-like self-improvement group in upstate New York who was convicted last year on charges that he turned some of his followers into sex slaves will face sentencing on Oct. 27, a judge said Friday.
A gay couple in Montpellier, France were harassed and attacked by a group of youths who inflicted heavy damage on their apartment and stole valuables.
Actor Nicholas Braun, who plays fan favorite Cousin Greg on HBO's "Succession," has captured the fraught nature of dating during the pandemic in a catchy new punk song that started as a joke.
As the Trump campaign struggles to gain momentum less than 90 days from the election, Bikers for Trump has taken advantage of recent motorcycle rallies to make direct appeals to register to vote.
The Nashville-based, queer alternative rock artist Kristen Ford will release a new EP next month title "No Plans."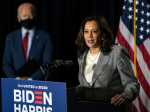 This week the Not Real News focuses on false news that spread about Sen. Kamala Harris, announced Tuesday as presumptive Democratic candidate Joe Biden's running mate. Here are the facts.
The new Mississippi flag could include a magnolia or stars or representations of rivers. Or it could reflect the state's Native American heritage.

A woman has survived a great white shark attack on Australia's east coast after her surfing companion repeatedly punched it until it let her go

A round up of the best LGBTQ tweets from this week, including reactions to Kamala Harris, "Drag Race," Dolly Parton, thirst traps and more!
President Donald Trump's proposed payroll tax cut is a threat to Social Security no matter how he casts it.
It's a go-to tactic when new diseases come along, and history suggests it works against some, but not all, infections.
Numerous insurers across the country have announced plans to hike rates next year, though some have proposed cuts.
A typical gasoline-powered vehicle can make it about 300-400 miles before needing to stop for gas. Edmunds' experts have evaluated four vehicles with significantly greater-than-average EPA-estimated ranges.
We're not playing favorites, and either should you. There's room for all in your underwear drawer. Here's a look as what's trending now.
Last month, the Trump administration announced a reversal of a Department of Health and Human Services administrative rule, erasing protections for transgender patients.
The exodus was prompted by the British government's decision late Thursday to take France off a list of nations exempt from traveler quarantine requirements because of a sharp rise there in new virus infections.
Provincetown Carnival attracts somewhere near 80,000 people to the town for the celebrations - something impossible in this year of COVID. The event was scheduled to begin this Friday. Here's a look back at carnival past - part 1 of 2.