1 thru 10 of 58673 Stories
A queer athlete, sports enthusiast, and sociologist searches for stories about queer women who earned their livelihood playing sports.
Out Olympic diver Tom Daley thrilled fans with his gold medal win on July 26. Now, he's thrilling them all over again — this time, for his impressive knitting skills.
Transgender weightlifter Laurel Hubbard made her mark by competing in the women's weightlifting at the Tokyo Olympics, but couldn't complete a lift.
An unreleased Wu-Tang Clan album forfeited by Martin Shkreli after his securities fraud conviction was sold last week for an undisclosed sum.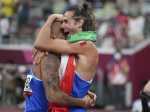 The first hints that this was Italy's year came when Italian band Maneskin won the popular Eurovision Song Contest in May.
A day after it recorded the most new daily cases since the start of the pandemic, Florida on Sunday broke a previous record for current hospitalizations set more than a year ago before vaccines were available.
Britain opened its borders to fully vaccinated travelers from the U.S. and European Union on Monday as travel industry leaders urged the government to further ease restrictions.
Ever wonder who cracked the cancel code? None other than blogger Joe Rogan, who maintains that queer people are the worst practitioners of cancel culture out of revenge.
The "Incredible Hulk" mask should not fool anybody. Raven Saunders has nothing to hide.
Dr. Anthony Fauci warned Sunday that more "pain and suffering" is on the horizon as COVID-19 cases climb again and officials plead with unvaccinated Americans to get their shots.
1 thru 10 of 58673 Stories