Review: The Pop Goddess of Love Returns with 'Disco'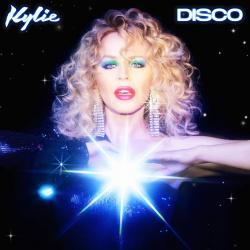 Let loose your own glitter ball!

She's always been dedicated to playing to her audience, and even when Kylie Minogue has deliberately stepped away from the comfortable trappings of her pop success, she always fires things up with her enthusiasm. Her 2018 release "Golden" gave us another side of the Australian superstar that very few may have ever expected, but she had us all line-dancing to the country-inspired setlist. There aren't very many pop acts that can do what Minogue has managed to do and endured in a fickle medium that doesn't easily accept risk-taking of any measure.

Her pop roots and the dance floor is where her devoted fanbase mostly want their reigning Pop Goddess to remain. With a career that has managed, decade after decade, to navigate the changing myriad of Euro-dance, techno-trance, electro-pop, and back again, Minogue's latest offering strips things back a bit but brings us all back to where we first fell in love with the rhythm. "DISCO" perfectly channels the era that it pays homage to, and it perfectly captures the spirit of decadence that made the music of the 1970s such a mix of glory and gaudy.

The album's opener is "Magic" for a reason! It promises an easy segue into groovy synth beats and bass riffs that are best set to capitalize on the tracks hook; it transports you and re-equalizes your sensory perception of what's to come. "Miss A Thing" is an instant classic, reminiscent of Donna Summer and Giorgio Moroder's best. Minogue toes the line between pure disco riffs and more contemporary arrangements, as to not alienate any demographic that may fall for the beats. "Real Groove" has a very modern vibe to it, but still slides in perfectly with the overall contextual feel of the album.

"Monday Blues" feels like Minogue's early work and carries all the bounce of her "Locomotion" remake, which turned her into a household name on this side of the pond. "Say Something," which emerged as the lead track to the full-length album, is much closer in tone to her last album and has a country twang to it before it goes full-on ABBA-esque on us; it's also lyrically one of the most relevant tracks on the album, reminding us all the power that music and entertainment have in shaping our worlds.

"Can we all be as one again," are words to live by right now and a reminder of how much we really need one another in these trying times. "Last Chance" is anything but! It's a beefy riff that will draw together every dancing queen. The setlist on "DISCO" runs the gamut and wraps up with the affirming "Celebrate You," which has all the makings of a Pride anthem.

Minogue has confessed that "DISCO" was the product of the intense quarantine everyone is under, caused by the global pandemic. The artist has turned the dance floor of our imaginations on full tilt, especially given the reality that nightlife culture and clubs across the world have all been shuttered. The party in our heads doesn't require any social distancing, there's never a cover charge, and we are all our own VIPs. "DISCO" lacks the pretensions of the "it" crowd, and is all-inclusive. It's pure and an encouraging reminder that we can dance anywhere!


"DISCO" by Kylie Minogue is available now on all digital music download platforms and also comes in a "Deluxe" version with bonus tracks.
Native New Yorker JC Alvarez is a pop-culture enthusiast and the nightlife chronicler of the club scene and its celebrity denizens from coast-to-coast. He is the on-air host of the nationally syndicated radio show "Out Loud & Live!" and is also on the panel of the local-access talk show "Talking About".
Comments on Facebook