Review: 'Mank' is One of 2020's Best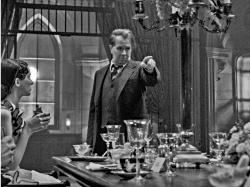 "If you keep telling people something untrue, loud and long enough, they're apt to believe it." - Herman J. Mankiewicz quoting Joseph Goebbels in "Mank."
Like a good cinephile I took my pre-"Mank"-prep quite seriously. I rewatched the Orson Welles classic, "Citizen Kane," and the informative documentary "The Battle for Citizen Kane," as well as the 1999 award-winning HBO film, "RKO 271," all handily available via the 70th anniversary "Kane" Blu-ray release. In addition, I reread the sprawling Pauline Kael piece "Raising Kane" and the Peter Bogdanovich rebuttal, via an exchange with Welles, "The Kane Mutiny." The Kael manifesto puts forth the notion that Herman J. Mankiewicz, the credited co-author of the film, is actually responsible for the lion's share of the script. Bogdanovich, and Welles himself, attack that idea.
Most viewers won't have the will or desire to plunge into homework. I get that. For me the revisit was a joyful rabbit-hole experience. But even if you don't know a lick about the many controversies surrounding "Citizen Kane," and have never even seen it, I dare you to not at least appreciate "Mank" for the compelling story, the gorgeous and authentic production values, the witty and perspicacious screenplay (by Jack Fincher, who died in 2003), the brilliant performances and the truly masterful filmmaking via perfectionist, David Fincher (Jack's son—I did that deliberately).
And, perhaps, unsuspecting viewers scanning their Netflix app might stumble on "Mank" and feel a bit perplexed, even alienated. But, excepting those with ADHD, my hope is they will quickly be captivated and beguiled by the story of a Hollywood writer, in crisis, in the midst of penning his masterwork.
"Mank" is an homage to the Hollywood filmmaking of yore, but it is also a sharp depiction of the creation of one of the most celebrated and controversial films of all time, one that to this day can be seen as groundbreaking in many respects. It is also a keen look at the politics of the 1930s and '40s and proof that everything old is, indeed, new again. It's timely, critical and necessary.
David Fincher's "Mank" is quite simply the best film of 2020 and one of the most significant films of our two-decade old millennium. Is it a coincidence that the two creatives responsible for the 2010 seminal cinematic work, "The Social Network," a decade ago, are back with their own personal bests? Both (the director) Fincher with "Mank" and (screenwriter) Aaron Sorkin, with "The Trial of the Chicago 7," which he also directs, provide expert commentary on our current political climate by telling turbulent past stories involving powerful men and the country that produced them (the good ol' US of A). Of the two, though (and not that it's a contest), "Mank" is the film that works on every level and the one that, I suspect, will be most studied, revisited and remembered.
"Mank" tells the tale of the above-mentioned Herman J. Mankiewicz (Gary Oldman, perfection) known as "Mank," a gifted alcoholic writer who moved from NYC to Hollywood to make his mark (and lots of money) penning screenplays. The film specifically focuses on Mank's holing up in a California ranch home to write the screenplay of what would become, "Citizen Kane," at the behest of 24-year-old Orson Welles (an excellent Tom Burke). The then-boy wonder was coming off his crazy "War of the Worlds" radio broadcast, and was offered an unprecedented contract by RKO Studios that gave him carte blanche over what he would make and with whom he would make it. Welles seeks out the booze-loving journalist turned drama critic turned prolific screenwriter, Mank, whose career is in a bit of a stall. (There's a thrilling film to be made of Mank's "Wizard of Oz" writing experience alone, if anyone is daring enough to tackle it.)
The producer John Houseman (Sam Troughton) is called on by Welles to oversee Mank's creating a script to be completed in 90 days—oops, "60 days and a noodle." On site are a British secretary (affable Lily Collins) and a German nurse (Monika Gossmann), tasked with looking after Mank since he just broke his leg in an auto accident and is also prone to falling madly off the wagon.
The narrative unfolds in semi-frenzied, "Kane"-like non-linear fashion, jumping timelines to flesh out a complex, dense and multi-faceted story that often flashes back to Mank's early days at MGM as well as his numerous visits to San Simeon, the massive ranch where William Randolph Hearst (a superb Charles Dance) enjoyed hosting lavish events with his actress/mistress, Marion Davies (Amanda Seyfried, in a career-changing performance).
Marion's entrance catches her being "filmed" looming over San Simeon as she is mock-burned at the stake, with Mank in the foreground watching. It's brilliant foreshadowing of things to come. Mank makes such a good impression on Hearst (and Marion) that he is often invited back. Suffice to say, Mank soaks in the scene as if he knew he might one day pen his musings. A later scene with Mank, Marion and a slew of jungle animals is a feast for the eyes and ears.
As the film zigzags in time, we see just how Mank came to know Hearst and Marion, how the relationships evolved (and devolved) and how his career as screenwriter was intertwined with the titan, often via his MGM boss, the bully himself, Louis B. Mayer (Arliss Howard, wonderfully disgusting) and Mayer's pet, Irving Thalberg (Ferdinand Kingsley). We are also privy to an interesting hypothesis about why Mank decided to bite the hand that purportedly fed him and dissect the world of Hearst in his "Citizen Kane" opus (originally called "American").
Another important figure in Mank's life, and one featured prominently in "Mank," is his younger brother Joseph (a terrific Tom Pelphrey, who near-steals every scene he's in). Joe would go on to win four back-to-back Oscars in 1949 and 1950 for writing and directing "A Letter to Three Wives" and "All About Eve," respectively. (The latter is also considered one of the best films ever made.) The younger Mank would go through his own life-altering insanities in the early '60s while making the infamous (and unfairly maligned) epic, "Cleopatra."
One of the ongoing jokes in "Mank" is the length of the screenplay (the first draft was 327 pages), as well as its non-linear ambitions. "You're asking a lot of motion picture audiences," Houseman challenges Mank. "You cannot capture a man's life in two hours," Mank argues back, "All you can hope is to leave the impression of one." All quite meta, ironic, and apropos to "Mank."
The mirroring of "Citizen Kane" via the flashback structure, as well as the camera angles (Welles insistence on seeing the characters from the ground up) and the pioneering deep focus shots, adds to the homage and helps tell the story.
Many of the political and social themes of "Kane" also find a home in "Mank." The Finchers look at the disparity in our class system via figures like Hearst and Mayer, who purport to care for the little people, while in actuality their actions reveal their unsympathetic contempt for the poor and working classes. The parallels with our Trumpian world make the mind reel.
During the post-depression years, when most Americans were looking to how they were going to feed themselves and their families, the wealthy and powerful were protecting (and amassing) their fortune by tricking people into voting for political figures who were promising to help them, but, instead, working towards passing laws to take their rights and privileges away. Hearst was involved in helping to choose then-President Hoover's cabinet. And Hearst himself seemed to lack any empathy for the masses who bought his newspapers, which kept him in power. Sound familiar?
A significant subplot of "Mank" focuses on the 1934 California gubernatorial race between Upton Sinclair, a Socialist and Democrat, and Frank Merriman, a Republican. Thalberg, at Mayer's behest, produces some of the very first negative newsreels painting Sinclair as an extreme socialist bent on changing the American way of life. Mank is appalled by this, and his dislike of Mayer is compounded. The "fake news" manipulations causes Sinclair to lose the election. And a tragedy occurs that shakes Mank to his core.
The scary political parallels abound. In an early '30s discussion at San Simeon about Hitler, Thalberg exclaims, "It can't last. Who in the world takes a lunatic like that seriously?" And the film also examines the common lumping together of communism and socialism.
First and foremost, though, "Mank" is about the creative process and the artist as creator, as perfectionist—or, at least, trying to achieve perfection, which is ultimately elusive and ephemeral. Mank is a writer in crisis, tapping into his creative juices by penning what he knows, what he's experienced, in a manner that is able to make an important socio-political commentary on the state of the society he lives in. And that also describes "Mank," the film.
"Citizen Kane" forced audiences to look at the cinematic world and the art of filmmaking in a new and exciting manner. "Mank" asks us to look back in order to move forward.
Can art change really change things? Welles and his masterpiece did not topple Hearst, although he did suffer major financial losses that had nothing to do with "Kane." The film did forever alter Hearst's reputation. He's certainly not remembered in a very good light today. And the endeavor near-destroyed Welles. It definitely clipped his wings. He would never have complete control over a project again.
Thanks to Fincher and his masterpiece, we can now look at Mankiewicz in a different light, not just as co-writer (and he came close to not getting that credit) but as someone who poured his soul into the writing of his masterpiece, someone who deserves as much credit as the producer/director/co-writer and star, Welles. (The debate continues to rage!)
And "Mank" also allows us to reevaluate Marion Davies. An excellent comedic actress in her own right, she was not the braying, obnoxious figure lumped over a jigsaw as portrayed by Dorothy Comingore, as Susan Alexander, in "Kane" and thanks to a bravura performance by Seyfried, she's finally being seen as the smart, formidable woman (and talent) she was, someone who truly loved Hearst and stood by him until the end.
The film, made in glorious black and white, is meticulously and flawlessly crafted from Erik Messerschmidt's hypnotic photography to Trent Reznor & Atticus Ross's perfectly period score to Kirk Baxter's shrewd editing to Donald Graham Burt's lush production design to the extraordinary ensemble led by a wholly engaging Oldman.
It took 30 years for Fincher to bring "Mank" to the screen. He was intrigued by the story and, after insisting his father refocus the script on the crafting of "Kane" as well as developing the Mank/Hearst relationship backstory more, he almost got it made. Alas, Fincher's insistence the film be shot in black and white was met with resistance, which speaks volumes to just how little the money men care about art.
In the end, Fincher was able to make the film he wanted to make, a bit later than he had hoped, but at a time when it is most needed.

"Mank" streams on Netflix beginning Dec. 4.
Frank J. Avella is a film and theatre journalist and is thrilled to be writing for EDGE. He is also a proud Dramatists Guild member and a recipient of a 2018 Bogliasco Foundation Fellowship. He was awarded a 2015 Fellowship Award from the NJ State Council on the Arts, the 2016 Helene Wurlitzer Residency Grant and the Chesley/Bumbalo Foundation Playwright Award for his play Consent, which was also a 2012 semifinalist for the O'Neill. His play, Vatican Falls, took part in the 2017 Planet Connections Festivity and Frank was nominated for Outstanding Playwriting. Lured was a semifinalist for the 2018 O'Neill and received a 2018 Arch and Bruce Brown Foundation Grant. Lured will premiere in 2018 in NYC and 2019 in Rome, Italy. LuredThePlay.com
Comments on Facebook