Top Story
Kathy Griffin has charged back into controversy with a wisecrack about a "Syringe with nothing but air inside it" — seemingly, her prescription for the current pres...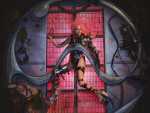 In the midst of a pandemic, Lady Gaga- the Princess of Punk Pop-Dance - delivers an elixir of dance, a concoction that will heal the soul and restore your faith.
A charming, off-beat thriller, "The Vast of Night" imagines what might happen if Rory Gilmore lived in the '50s and came across a message from outer space.
Lady Gaga has finally released her sixth studio album "Chromatica."
"Out" is a small movie on a streaming service, not one of Pixar's global blockbusters. But it has already had an outsized impact and been celebrated as a milestone.
Fox News Channel's Sean Hannity has emerged as an unexpected critic of the Minneapolis police for their actions in the Memorial Day death of George Floyd.