Top Story
Democrats in the House approved sweeping anti-discrimination legislation Friday that would extend civil rights protections to LGBT people by prohibiting discrimination based on sex...
1 thru 10 of 48020 Stories
Sixteen thousand tons of Bethlehem Steel collapsed in a matter of seconds Sunday as a demolition crew imploded Martin Tower, the defunct steelmaker's former world headquarters.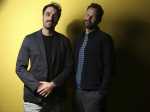 Some stars and directors come to the Cannes Film Festival by boat, others by private jet. Michael Angelo Covino and Kyle Marvin pretty much cycled their way into Cannes.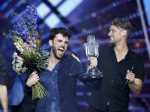 The Netherlands won the 2019 Eurovision Song Contest in Tel Aviv Saturday, with Duncan Laurence's doleful piano ballad "Arcade" crowned champion of Europe's annual music extravaganza.
Across Iran's capital, the talk always seems to come back to how things may get worse.
French President Emmanuel Macron sees himself as Europe's savior and this week's European Parliament elections as a make-or-break moment for the beleaguered European Union.
A jubilant Australian Prime Minister Scott Morrison vowed Sunday to get straight back to work after a shock election victory by his conservative government that has left bewildered voters wondering how they were taken by surprise.
A large sign warns motorists that Iceland's Fjadrárgljúfur canyon is closed to visitors but drivers keep on coming down the narrow gravel road. A ranger has to explain why no one can pass: The vulnerable landscape cannot sustain more visitors.
Saudi Arabia does not want war but will not hesitate to defend itself against Iran, a top Saudi diplomat said Sunday amid heightened tensions in the Persian Gulf after attacks on the kingdom's energy sector.
Former President Jimmy Carter carved an unlikely path to the White House in 1976 and endured humbling defeat after one term. Now, six administrations later, the longest-living chief executive in American history is re-emerging from political obscurity,
Trump won the presidency by winning rural America, in part by pledging to use his business savvy and tough negotiating skills to take on China and put an end to trade practices that have hurt farmers for years.
1 thru 10 of 48020 Stories