South Florida Gay News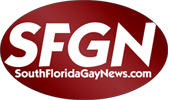 The South Florida Gay News.com celebrates the lives of South Floridians with daily news briefs and storied features, breaking news and lifestyle profiles. Check out their website at southfloridagaynews.com.
Forced to flee the Russian republic of Chechnya, the first openly Chechen transgender woman stepped forward to share her experience.
Federico Garcia and Tyler King are two runners that will be competing in the 10K event at this year's World OutGames Miami. The two will also have been engaged for two years come this October.
Paul Schlegel has lost count of the number of times he witnessed Poverello founder Father Bill Collins administer to men dying of HIV/AIDS in hospitals. But Schlegel has no problem remembering how Collins, who died on May 10, treated those men.
Last Summer, as Kevin Hertzog and his friends were mourning the Pulse shooting in Orlando, it was a simple conversation that kicked off what would eventually become, Gays Against Guns, or GAG.
Diego Suarez is a global citizen returning to Florida to present his hometown to the world.
Limited staff and resources mean that Latinos Salud can only do so much to fight South Florida's HIV/AIDS epidemic.
The film is based on accounts told by men who have escaped these alleged anti-gay prisons.
After college Tony Plakas knew what his fate would be - as a gay man he would get AIDS and die a slow, agonizing death. It's a story that's familiar with many coming of age gay teens in the 1980s. But that's not what fate had in store for Plakas.
Keiynan Lonsdale, known for his role of Kid Flash on the CW's "The Flash," came out to his fans on Instagram this weekend in an emotional message.
Malone describes the show as "a musical journey from growing up in rural Colorado to becoming an out lesbian protagonist on Broadway" punctuated by the music of Foreigner, Journey, LeAnn Rimes and, of course, some show tunes.