Gay Key West: The Latest
Saudi Arabia does not want war but will not hesitate to defend itself against Iran, a top Saudi diplomat said Sunday amid heightened tensions in the Persian Gulf after attacks on the kingdom's energy sector.
Former President Jimmy Carter carved an unlikely path to the White House in 1976 and endured humbling defeat after one term. Now, six administrations later, the longest-living chief executive in American history is re-emerging from political obscurity,
Trump won the presidency by winning rural America, in part by pledging to use his business savvy and tough negotiating skills to take on China and put an end to trade practices that have hurt farmers for years.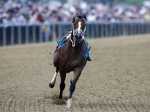 Mark Casse completed a lifelong quest two weeks after the scare of a lifetime. And he did so in a race featuring a riderless horse that threw his jockey out of the gate and kept running.
Authorities say somebody stole a tripod from a California Department of Transportation crew and then dropped it from an overpass onto a Sacramento freeway, impaling the lung of a passenger in a van.
His party may be enraged by Donald Trump's presidency, but Democratic presidential candidate Joe Biden insisted Saturday that Democrats will not defeat the Republican president if they pick an angry nominee.
Thirty-nine years later, Jack is still not a dull boy. In a new pristine restoration, Stanley Kubrick's "The Shining" premiered at the Cannes Film Festival on Friday evening.
Thousands are marching in Northern Ireland to demand that the region's leaders permit same-sex marriage.
Italy's anti-migrant Interior Minister Matteo Salvini led a rally of right-wing populist leaders Saturday seeking historic results in next week's European Parliament elections in their bid to transform European politics.
Australia's ruling conservative coalition won a surprise victory in the country's general election on Saturday.
Two major casino operators said Friday they were in preliminary talks about the possible sale of one of the largest casinos in the Northeast.
Actor Arnold Schwarzenegger was assaulted during a public appearance in South Africa on Saturday, but the 71-year-old appeared to quickly recover and say "I'm just glad the idiot didn't interrupt my Snapchat."
It was the dress blue uniforms that drew John Thompson to join the U.S. Marines, where black men were not welcome, so he could defend a country that denied him the rights he wanted to fight for.

U.S. Navy pilots and sailors won't be considered crazy for reporting unidentified flying objects, under new rules meant to encourage them to keep track of what they see.

The health care debate has Democrats on Capitol Hill and the presidential campaign trail facing renewed pressure to make clear where they stand.
President Donald Trump on Friday delayed any decision to impose tariffs on car and auto-part imports, deciding against ratcheting up trade disputes or impacting ongoing talks with European nations and Japan.
Walmart warned on Thursday that higher tariffs on imports from China will mean higher prices.

For more than two decades, Nancy Mace did not speak publicly about her rape. In April, when she finally broke her silence, she chose the most public of forums — before her colleagues in South Carolina's legislature.
Sri Lanka was the Lonely Planet guide's top travel destination for 2019, but since the Easter Sunday attacks on churches and luxury hotels, foreign tourists have fled.
Amidst the trend towards mindfulness and minimalism, Americans are increasingly finding happiness in cleaning — and the numbers are backing it up.