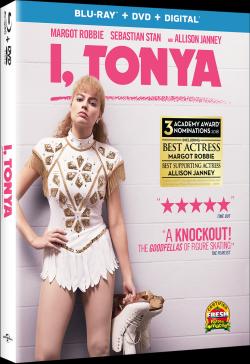 I, TONYA

"FRESH, CHANCY AND WICKEDLY ENJOYABLE" - Owen Gleiberman, Variety

Nominated for three Academy Awards® (Best Actress, Best Supporting Actress and Best Film Editing), I, Tonya is a darkly funny and entertaining examination of Tonya Harding, the most controversial figure in the history of figure skating, and the headline-grabbing scandal that mesmerized a nation. I, Tonya is available on Digital and the all-new digital movie app MOVIES ANYWHERE on March 2, 2018 and on Blu-rayTM, DVD and On Demand on March 13, 2018 from Universal Pictures Home Entertainment. Packed with more than 40 minutes of exclusive bonus content, the Digital, Blu-ray™, and DVD showcase deleted scenes and in-depth featurettes taking viewers behind the scenes of the film and its captivating story.

Spanning from Harding's earliest days at the ice rink to the notorious "incident", critics call I, Tonya "a hilariously tragic story of success so entertaining you can't look away" (Eric Kohn, Indiewire). Presenting multiple, and at times contradictory, perspectives of the events, the film explores the ways public opinion can be permanently shaped by news agendas and tabloid culture. But beyond the headlines, I, Tonya tells a complex story of resilience and perseverance, as a rebellious working-class girl pursues her dream competing in a "ladylike" sport, only to be caught up in controversy and criminal circumstances created by her involvement with those closest to her.

Based on the incredible true events, I, Tonya is a darkly comedic tale of American figure skater, Tonya Harding, and one of the most sensational scandals in sports history. Though Harding was the first American woman to complete a triple axel in competition, her legacy was forever defined by her association with the infamous attack on fellow Olympic competitor Nancy Kerrigan.

Featuring Oscar-nominated performances by actress/producer Margot Robbie (Suicide Squad) as the fiery Tonya Harding, and Allison Janney (Girl on a Train) as her acid-tongued mother (2018 Golden Globe® Award-winner), I, Tonya also stars Sebastian Stan (Captain America franchise) as Tonya's impetuous ex-husband, Bobby Cannavale ("Boardwalk Empire") and Julianna Nicholson (August: Osage County), and is directed by Craig Gillespie (Lars and the Real Girl) from an original screenplay by Steven Rogers (P.S. I Love You). The film offers an often absurd, at times irreverent, and always piercing portrayal of Harding's life and career in all of its unchecked--and checkered--glory.

Special features:

Deleted Scenes
All Sixes: The Perfect Performances of I, Tonya
Irony Free, Totally True: The Story Behind I, Tonya
Working with Director Craig Gillespie
The Visual Effects of I, Tonya
VFX: Anatomy of the Triple Axel
Feature Commentary with Director Craig Gillespie
Theatrical Trailers

http://uni.pictures/ITonya

#ITonya

Enter to win!

Thanks for visiting EDGE!
Enter this contest
If you already have an account with EDGE, all you need to do is log in; we'll pull your address information from your account and simply ask you to verify it. If you do not yet have an account with us, register now! It's easy and free, and you'll never have to type in your personal information again. If you prefer to enter this information manually, you can use the manual entry link below.
Register
Manual Entry
Click here for contest rules.
* Please be aware that creating multiple accounts for the same person will disqualify you.