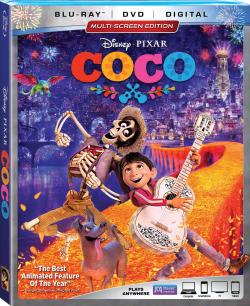 2018 GOLDEN GLOBE AWARDS WINNER FOR BEST ANIMATED FEATURE

"... the best animated feature of the year. It's not even a contest."
- Dwight Brown, Huffington Post

Host an Unforgettable Family Reunion in Your Home!

Disney•Pixar's "COCO"

Crosses Over Digitally in HD, 4K Ultra HD™ and Movies Anywhere on Feb. 13 and 4K Ultra HD™ & Blu-ray™ on Feb. 27

Disney•Pixar's "Coco"-the story of a 12-year-old aspiring musician's extraordinary journey to the magical land of his ancestors-won a 2018 Golden Globe Award® for Best Animated Motion Picture, topped the domestic box office Thanksgiving holiday weekend, became the highest grossing film of all time in Mexico, broke records in China and earned widespread praise, receiving 96 percent from critics and 97 percent from audiences on Rotten Tomatoes. Now this vibrant tale filled with love and laughter arrives home Digitally in HD and 4K Ultra HD™ and on Movies Anywhere on Feb. 13, and on 4K Ultra HD,™ Blu-ray,™ DVD and On-Demand on Feb. 27.

Through fresh and fascinating bonus material, adventurers of all ages will tag along with filmmakers as they soak in Día de los Muertos in Mexico; explore the essential role of music in "Coco;" and learn how the cast and crew personally connect with the film's message. They'll step behind the scenes to discover the inspiration behind the film's creative costuming; Miguel's beautifully complicated family; Dante the loyal Xolo dog; and the stunning worlds of both the dead and the living. Features also include deleted scenes, insightful filmmaker commentary, the music of Coco and more.

"Coco" is packaged several ways to ensure viewers get the most out of their in-home viewing experience. The Multi-screen Edition (formerly the Blu-ray Combo Pack) includes Blu-ray, DVD and a Digital copy, giving viewers the flexibility to watch the film on different devices. Those with 4K Ultra HD capability may opt for Digital 4K Ultra HD or the 4K UHD Combo Pack, which includes 4K UHD, Blu-ray and a Digital copy. 4K Ultra HD provides four times the resolution of HD, bringing the rich color, textures and sounds to life and immersing viewers in two fantastically animated worlds. Dolby Atmos audio heightens the memorable score created by Oscar®-winning composer Michael Giacchino and his 83-piece orchestra, as well as original songs like "Remember Me" by the Oscar®-winning team behind "Frozen," Kristen Anderson-Lopez and Robert Lopez.

In Disney•Pixar's "Coco," Pixar Animation Studios' 19th feature film, Miguel (voice of newcomer Anthony Gonzalez) dreams of becoming an accomplished musician like his idol Ernesto de la Cruz (voice of Benjamin Bratt)-despite his family's baffling generations-old ban on music. Desperate to prove his talent, Miguel finds himself in the stunning and colorful Land of the Dead following a mysterious chain of events. Along the way, he meets charming trickster Héctor (voice of Gael García Bernal), and together, they set off on an extraordinary journey to unlock the real story behind Miguel's family history.

The voice cast of "Coco" includes characters from the Land of the Living and the Land of the Dead. From the Land of the Living, Anthony Gonzalez ("Ice Box," TNT's "The Last Ship") lends his voice to Miguel, Renée Victor ("Weeds," "The Apostle") provides the authoritative voice of Abuelita, and Jaime Camil (CW's "Jane the Virgin," Disney Junior's "Elena of Avalor," "The Secret Lives of Pets") is the voice of Papá. Lombardo Boyar ("Happy Feet," TNT's "Murder in the First") voices a town mariachi, and Ana Ofelia Murguía is the voice of Miguel's cherished great-grandmother Mamá Coco. Sofía Espinosa ("Gloria") provides the voice of Miguel's loving Mamá, and Luis Valdez ("Which Way Is Up," director "La Bamba" and "The Cisco Kid") lends his voice to Tío Berto, Miguel's hardworking uncle.

From the Land of the Dead, Gael García Bernal (Amazon's "Mozart in the Jungle") helps bring to life charming trickster Héctor, Benjamin Bratt (Fox's "Star," "Doctor Strange") is the voice of Miguel's idol Ernesto de la Cruz, and Alanna Ubach ("Meet the Fockers," Bravo's "Girlfriends' Guide to Divorce") provides the voice of Miguel's great-great-grandmother Mamá Imelda. Alfonso Arau ("¡Three Amigos!" director/ producer "Like Water for Chocolate," director "A Walk in the Clouds") is the voice of Miguel's late great-grandfather Papá Julio, Herbert Siguenza ("Larry Crowne," "Ben 10: Alien Swarm") lends his voice to both Tío Oscar and Tío Felipe, Miguel's late identical twin uncles, and Gabriel Iglesias ("Planes," "The Nut Job," "The Nut Job 2: Nutty by Nature") lends his voice to the Clerk. Natalia Cordova-Buckley ("Marvel's Agents of S.H.I.E.L.D") provides the voice of legendary artist Frida Kahlo, Selene Luna ("My Bloody Valentine," "Celebrity Wife Swap") voices Miguel's aunt Tía Rosita, and Edward James Olmos ("Blade Runner," "Stand and Deliver") lends his voice to Chicharrón.

Also lending their voices are Carla Medina, Dyana Ortelli, Blanca Araceli, Salvador Reyes, Cheech Marin, Octavio Solis and John Ratzenberger.

movies.disney.com/coco

Enter to win!

Thanks for visiting EDGE!
Enter this contest
If you already have an account with EDGE, all you need to do is log in; we'll pull your address information from your account and simply ask you to verify it. If you do not yet have an account with us, register now! It's easy and free, and you'll never have to type in your personal information again. If you prefer to enter this information manually, you can use the manual entry link below.
Register
Manual Entry
Click here for contest rules.
* Please be aware that creating multiple accounts for the same person will disqualify you.