Tens of thousands of Americans each year are dropped by their insurers over payment issues, sometimes with little or no prior warning from their insurers.
Many people are frightened of long-term care costs — for good reason. Most people over 65 eventually will need help with daily living tasks, such as bathing, eating or dressing.
In the seven years since the housing crash ended, home values in more than three-quarters of U.S. metro areas have climbed faster than incomes, according to an Associated Press analysis of real estate industry data provided by CoreLogic.
You won't pay for health care in retirement with one lump sum. That's the way these expenses are often presented, though, and the amounts are terrifying.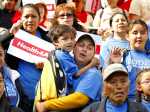 California lawmakers are considering proposals that would make the state the first in the nation to offer government-funded health care to adult immigrants living in the country illegally. But the decision on who to cover may come down to cost.