A Dog's Journey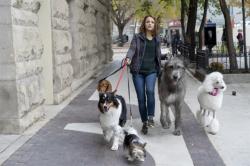 Available digitally today!

- - -

Squarely fitting into the Hallmark style of filmmaking, this sequel to the surprise hit "A Dog's Purpose" continues the story of multi-dog Bailey, the faithful mutt of a young boy (Ethan) who travels from body to body to take care of his "boy." In "A Dog's Journey" Bailey ups his promise by moving through many lives to watch over and protect Ethan's granddaughter.

Based on the books by W. Bruce Cameron, the "Dog" movies are incredibly earnest but harmless and oftentimes effective. Josh Gad provides the voice-over of Bailey (who goes through a number of names and sexes in his journey) and it's all cute and fluffy and touching. However, as sincere as these films are, this sequel is quite a bit darker than its predecessor (think "Babe: Pig in the City") and deals with a variety of heavier topics like emotionally abusive parents, alcoholism, attempted assault, phenomenally poor dating choices, and death. A lot of death. Not only does Bailey go through a number of lives, but there is a cancer sub-plot and natural death lurking as well. So, whether you want to bring your young kid to this outing is up to the maturity of your child.

Here, we reconnect with Ethan (Dennis Quaid) who — at the end of the first film - reunited with the soul of his dog "Boss Dog." Ethan realized it was his dog because of a specific trick they had come up with when Ethan was a young boy. With Ethan older and still working on his farm, he and his wife Hannah (Marg Helgenberger) help take care of their toddler granddaughter CJ and self-involved and disconnected daughter-in-law Gloria ("Glow's" Betty Gilpin). You see, their son died while Gloria was pregnant, so she's now an unhappy, depressed single mother. Fun movie, right? Eventually, she gets angry at her parents-in-law and takes off with CJ.

Cut to 7 years later. CJ is a fairly well-adjusted kid even though her mother is a self-obsessed monster. She adopts a dog named Molly on the sly when her best friend Trent (Henry Lau) adopts Molly's brother. Unbeknownst to her, Molly is actually Bailey and has fulfilled his/her promise to watch over her. Cut to eight years later, and CJ (now played by Kathryn Prescott) is a slightly moody but genial teen. Of course, her mother is still a nightmare, and as a result, CJ makes some questionable choices, like getting involved with a boy who is clearly an incredible jerk. Eventually, CJ leaves town to pursue — you guessed it — a music career. Because, really, what movie/TV show isn't complete without some character wanting to be a singer.

There's a lot more that comes at this point, but that's up to the viewer to experience. Granted, there is nothing here that is a huge surprise, as so many plot points are telegraphed way ahead of time. There are some occasional chuckles as Gad narrates and navigates typical doggy stuff, and while the writing and acting is squarely TV movie and, well, square, Prescott has a naturalness that saves the film from being completely unrealistic. (Let's face it - there's nothing realistic here, from CJ and Trent's beautiful Manhattan apartments and the never-ending coincidences that occur throughout, to the fact that both CJ and Trent both have partners that are clearly not right for them — to such an extent you'd think they were lobotomized when choosing their other halves.)

As this is standard Hallmark-style fare, there will be happiness in the end, but, as stated, there's quite a bit of death and some upsetting elements that merit the PG rating. It's a film you could easily make fun of for its earnestness and lack of believability (just in the human character's motivations alone), but it all does down easy and despite its eye-rolling qualities, I had a tear in my eye in the end. So in that way, this dog's journey is still effective and for animal lovers, worth taking a bite of the kibble.
A Dog's Journey
Bailey is living the good life on the Michigan farm of his boy, Ethan and Ethan's wife Hannah. He even has a new playmate: Ethan and Hannah's baby granddaughter, CJ. The problem is that CJ's mom, Gloria, decides to take CJ away. As Bailey's soul prepares to leave this life for a new one, he makes a promise to Ethan to find CJ and protect her at any cost. Thus begins Bailey's adventure through many lives filled with love, friendship, and devotion.
Info
Runtime :: 108 mins
Release Date :: May 17, 2019
Language :: Silent
Country :: China

Cast
Voice of Bailey :: Josh Gad
CJ :: Kathryn Prescott
Gloria :: Betty Gilpin
Ethan :: Dennis Quaid
Hannah :: Marg Helgenberger
Young CJ :: Abby Fortson
Trent :: Henry Lau
Young Trent :: Ian Chen
Big Joe :: Conrad Coates
Shane :: Jake Manley
Liesl :: Daniela Barbosa
Barry :: Kevin Claydon
Toddler CJ :: Emma Volk
Henry :: Johnny Galecki

Crew
Director :: Gail Mancuso
Screenwriter :: W. Bruce Cameron
Screenwriter :: Cathryn Michon
Screenwriter :: Maya Forbes
Screenwriter :: Wally Wolodarsky
Producer :: Gavin Polone
Executive Producer :: Seth Meier
Executive Producer :: Lasse Hallström
Executive Producer :: Luyuan Fan
Executive Producer :: Wei Zhang
Cinematographer :: Rogier Stoffers
Film Editor :: Robert Komatsu
Original Music :: Mark Isham
Production Design :: Eric Fraser
Costume Designer :: Patti Henderson
Casting :: John Papsidera

Kevin Taft is a screenwriter/critic living in Los Angeles with an unnatural attachment to 'Star Wars' and the desire to be adopted by Steven Spielberg.
Comments on Facebook