Ask For Jane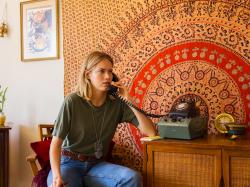 American women have had the right to vote for less than 100 years. Women have had legal reproductive autonomy only since 1973. Roe v. Wade became a legislative imperative thanks in part to a group of young women committed to sharing support, information and services in the years leading up to the landmark decision. Writer and director Rachel Carey tells their stories in the timely historical drama "Ask for Jane."

In the years before Roe v. Wade, a Windy City underground collective provided help for thousands of poor and middle-class women. Producer and actor Cait Cortelyo asked Carey to create the script based on the true story. At the University of Chicago in 1969, pregnant student Rose (Cortelyou) attempts suicide, but instead finds a doctor to perform an abortion. At the time, birth control was rare and the procedure was punishable by imprisonment. Three or more people in a room discussing abortion could also be arrested for conspiracy to commit murder.

Rose and her friend Janice (Cody Horn) eventually create the Jane Collective, a secret yet safe network to perform abortions, starting with a dorm room phone and an old-school answering machine. These "women's libbers" wanted to treat women in crisis like human beings and provide information they wished they had had when they were younger. Using blindfolds to protect the identities of providers they recruited, these young students had a mission to prevent job and college opportunity losses, and stem suicides by extreme methods like taking rat poison.

"Women are dying and we're trying to stop that," a "Jane Doe" says.

The simple, powerful film offers solid performances and chronicles the perennial act of women helping women, of finding a way to respect and promote a women's right to control her own body in the face of misogyny sanctioned by an entrenched patriarchal system. Largely female donors and crew helped facilitate this narrative that continues the tradition of female stewardship of women's issues, stories and fights that remain in the news today.
Louise Adams is a Chicago freelance writer at
www.treefalls.com
(and a nom de guerre).
Comments on Facebook