The Souvenir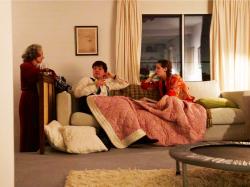 You might think that "The Souvenir," British director Joanna Hogg's new film, is something remarkable judging from the response it received at Sundance earlier this year. The critics went gaga over this intimate account of a 20-something film student and her destructive relationship with an older man. "Masterful," "heartbreaking," "moving" are the way the film is being described in reviews on Rotten Tomatoes, where it currently is at 92%. Why, then, did the film leave me so cold?

Despite the standout central performance by Honor Swinton Byrne, Hogg's story (taken from her own experiences decades ago) is a lifeless sludge that would qualify as satire if it didn't take itself so seriously. Byrne plays Julie, Hogg's alter-ego, who lives in fancy London digs while attending film school. (The time is the 1980s.) Julie is making a film about a boy growing up in poverty in a Northern port city — an experience far removed from her posh lifestyle, a fact pointed out by her instructors when she describes her film to them. She is painfully earnest, so much so that it easy to understand when she falls for a man a bit older and seemingly more worldly than she is. Anthony reeks of public school privilege; not so much possessing charm but anti-charm.

They're curious together, displaying so little physical passion that it took some time to realize that they're even a couple. He clearly controls her in uncomfortable ways, soon moving into her flat and hitting Julie up for pocket money. The reason for this is hinted at by his friends at a dinner party: Anthony is a heroin addict; and before she knows it, Julie is in a relationship that is out-of-control.

Hogg has a keen observational style; almost painfully so. Characters converse with their backs towards the audience, scenes transpire on mirrors, and the characters speak in a quiet monotone. Not that what they are saying is particularly interesting. The dialogue is banal, everyday conversation; and the narrative itself told in such a muted, almost fragmentary way that it is drained of any drama. The pair live in such a hermetic world that I thought what the film needed was the sassy gay friend (or at least someone) who would set Julie straight in her relationship.

Some no doubt find Hogg's unique visual style alluring, but her arty mumblecore approach irritates in its overt artiness. Julie's voiceover narrations are accompanied with a visual of trees in the countryside; lovely, as is David Raedeker cinematography throughout; but it is there for no discernible reason for these touches (or at least they escaped me). As did the meaning of the title, alluding to a painting by Fragonard that Anthony takes Julie to see early in the film.

The chief reason for sitting through the film is Honor Swinton Byrne, a young actress whose intuitive skills are on display throughout. As a young woman attempting to navigate a relationship slipping over the edge, she does so with such sincerity that it is hard not to be touched by it on some level. But after the film's tedious dynamic becomes apparent, Julie (and her plight) becomes tiresome. Today such a story would be fodder for a reality television show.

Hogg shrewdly casts Tilda Swinton (Honor's mom) to play her fictional mother, and the older Swinton is, characteristically, a great presence; first appearing, with a kerchief over her head that makes her look like those pictures of a dressed-down Queen Elizabeth; but she really has little to do in the few scenes she appears in. Even more problematic is Tom Burke, who plays Anthony. He most convincingly plays a bully, but there's so little else to his performance that it leaves you wondering just why Julie becomes so enamored of him. Exploring the peculiar nature of attraction could be the point, but it — and the film — eluded me.
Comments on Facebook