South Florida Gay News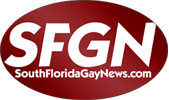 The South Florida Gay News.com celebrates the lives of South Floridians with daily news briefs and storied features, breaking news and lifestyle profiles. Check out their website at southfloridagaynews.com.
Miami Beach Gay Pride is handing its grand marshaling duties over to an intern. Ross the Intern to be exact.
Just as they have since 1992, the LGBT community will celebrate the strength and growth of the Palm Beach County LGBT community with the annual two-day Palm Beach PrideFest celebration Saturday, March 25 and Sunday, March 26.
Thousands walked Fort Lauderdale Beach Sunday to raise money for HIV/AIDS services.
In a new case from Lambda Legal, a federal court issued a decision requiring Florida to acknowledge whether a deceased individual was married to a same-sex partner and list said partner as a surviving spouse.
The annual National Survey of Older Americans Act Participants (NSOAAP) will not seek to identify individuals based on sexual orientation or gender identity, the Administration on Aging revealed this week.
Understand what a Mezuzah means and more on Sunday during a project presented by Congregation Etz Chaim. The gathering is from 3 to 5 p.m., March 26, inside Pride Center's building B at Equality Park in Wilton Manors.
LGBT journalists, bloggers, and other professionals will gather March 23-26 in Orlando for the 7th annual #LGBTMedia convention.
The workshop was titled "Vodka, Meth, Sex...Lipitor?!: Over 40 (or 60) & Still Partying?" It was moderated by Bruce Williams, director of senior services at Pride Center.
At this year's Human Right Campaign spring convention tensions were high against President Trump and his cabinet in light of their actions against the LGBT community.
On Monday, the United States Department of Justice announced it will give $8.5 million to Florida to aid Pulse Nightclub victims, first responders and witnesses.