Rage Monthly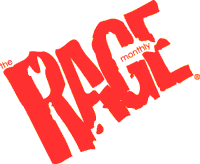 Check out Rage at ragemonthly.com.
Based out of Orange County, Ron Reyes specializes in photos of men, unapologetic images that celebrate the male form... and, in particular, the gay male form.
We must be very careful what we agree to, even mentally, because what we agree with, we are creating for ourselves. Just as there are no idle thoughts, there are no idle agreements, and that includes the next four years.
The way you see the aging process mentally, can be a big factor in your physical health.
Black Grace, founded in 1995 by Neil Ieremia, is one of those groundbreaking troupes filling the world's stages with dances that reach across social, cultural and generational barriers.
Lady Bunny is back in town and she's got a little "somethin'-somethin'" to fill your basket... and there's nothing PC about her bunny tales!
AB 1732 takes effect on March 1, 2017 and requires California businesses as well as any establishment open to the public, to designate existing single-user restroom facilities as "All-gender."
Tom Atwood's photography takes you inside the lives of LGBT Americans, over 350 of them across the nation, in a way that just simply hasn't been done before.
For the first time in their history, MenAlive is collaborating with the very talented SwingSet of Laguna, an award-winning, 18-piece jazz ensemble for their Spring concert.
"RuPaul's Drag Race" Season 9 is here. And the only way to explain the artistry of drag and who the queens are in this joyous, mad and delightful romp? To offer insights from behind the make up.
Like classic sculpture, his male images beg you to examine them: Beautiful, sensual, powerful and yet like those classic sculptures of antiquity, oddly chaste.