Rage Monthly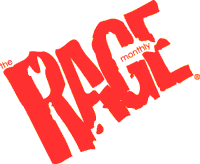 Check out Rage at ragemonthly.com.
Many people who spend hours in the gym are trying to get lean and toned, but somehow it ends up being harder than anticipated. What does one have to do to actually tone muscles and see some definition?
"The View UpStairs," is based on the true story about a lively gay bar that was the target of a horrific arson attack on June 24, 1973.
Help to honor those men and women who paved the LGBT rights road and those who benefit from the accomplishments and services of The San Diego LGBT Community Center.
"We hope visitors to the show walk away with a better sense of the wide-reaching and dynamic scene these artists fosters in the '70s and '80s and the sense of playfulness and possibility that permeated their work across art, life, and activism."
With a sweet, alluring twinkle in his eye, Carbonaro's quick, intelligent mind springs the trap set for you, doing so before you realize you've even been ensnared. There's magic afoot for sure, and it's often hilarious to boot.
LGBT representation has been slow to arrive on the bridges of any "Star Trek" franchise, but finally "RENT" star Anthony Rapp and fellow RENT alum Wilson Cruz play a 23rd Century gay male couple on "Discovery." Rapp shares his insights.
Cygnet Theatre is now in rehearsals for the San Diego premiere of the witty, sequin-filled musical comedy "The Legend of Georgia McBride." Star Spencer Bang reveals the story behind the sequins.
When "Drag Race" alum Shangela takes the stage as the hostess of "RuPaul's Werq The World Tour," this queen is totally prepared to "Bring it!"
Last year's inaugural TransNation Film Festival succeeded as a more in-depth exploration of our trans community than most LGBTQ events have offered to date.
See this film, learn something about how we got to where we are now. There is still work to be done, yes, but because of this moment and many others, we have come so very far.